1954 Ford Skyliner
Even Dallas Probate Attorneys Have Hobbies

It's important for lawyers to have hobbies and passions outside of the law office. I am passionate about probate law in Collin County and Dallas County, but I also love getting my hands dirty outside the office. I hope you've already noticed that I enjoy woodworking and playing clarinet in the Richardson Community Band. Here is my newest endeavor…
The 1954 Ford Skyliner

If you've never heard of a 1954 Ford Skyliner, it is a very unique old car. It has a transparent plastic panel in the roof–which is pretty forward-thinking for back in 1954. Ford only made about 13,000 Skyliners in 1954, so they don't come up for sale often. When I found a "rusty and crusty" Skyliner for sale in McKinney, Texas, I couldn't resist the investment.
It looked ugly the first time I saw it, but I bought it anyway. It's the idea of the car that sold me, not the actual car itself. The car will be very nice. Eventually. In the meantime, this Texas probate lawyer will learn all kinds of new skills.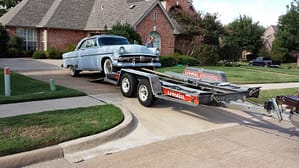 Work Has Already Started

Once home, the Skyliner went from ugly to uglier. To make her pretty again, the Skyliner must first be completely disassembled.
I have already removed most of the nasty old interior, including all of the hay that made its way into the car (the car had been in a field for 20 years). I have removed the doors and the hood.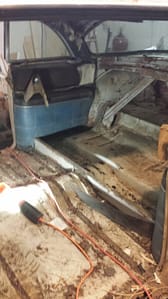 She's just beautiful, right? Maybe not, but at least work has already started. My next step is to continue completely dismantling the car, removing the car body from the frame, and finding all the rust.
This project will take time, but I will try to update the progress here periodically.
Free Consultation
To ask a legal question or get legal help from a wills attorney in the Richardson, TX area, use the online contact form to the right or call (214) 302-8197. If you prefer to meet at the office in person in Richardson, TX- the attorney will gladly offer a free consultation.
Visit www.ShuttLawFirm.com for more information on what to do after a family member died in Dallas, Texas area, how to get your inheritance in Collin County, TX, Dallas Letters Testamentary or Collin County Letters Testamentary, contact Richardson, Texas Probate Attorney Isaac Shutt at ishutt@shuttlawfirm.com.
Shutt Law Firm's office is conveniently located just north of Dallas, TX and just South of Plano, TX. The law office is near the intersection of highway 75 and Campbell Road in Richardson, TX.
.
You can also call Mr. Shutt at (214) 302-8197 for more information on the topic discussed in this article or to discuss a different legal matter. For existing clients, quick phone-calls and brief e-mails are always free at Shutt Law Firm PLLC. Please consider the Shutt Law Firm if you need letters testamentary, how to serve as executor in Texas, how to probate in Dallas County Probate Courts or the Collin County Probate Court, a Texas Last Will and Testament, or you need Dallas Probate Attorneys serving Richardson, Plano, Allen, McKinney, Garland, Addison, TX, Collin County, or surrounding North Texas area.
.
DISCLAIMER: Nothing in this brief article constitutes legal advice. The information provided herein is merely provided in the spirit of education. If you have a legal question, you should consult an attorney for your specific legal situation. Further, nothing in this article shall be construed to have started an attorney-client relationship. No such relationship exists until both you and attorney Isaac Shutt sign an engagement letter with the Shutt Law Firm, PLLC.

By Isaac Shutt